Thriving Cultural Creatives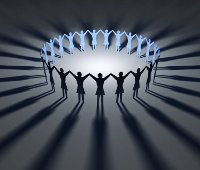 CREATING A
CANCER AND ADDICTION
FREE SOCIETY
Based upon
The Quantum Soulution™ Collection
eBooks for Living Sustainably

Cultural Creatives is a term coined by sociologist Paul H. Ray and psychologist Sherry Ruth Anderson to describe a large segment in Western society that has developed beyond the standard paradigm of Modernists or Progressives versus Traditionalists or Conservatives. The concept was presented in their book, The Cultural Creatives: How 50 Million People Are Changing the World (2000), where they found 50 million Americans (26% of the adult population) to belong to this group (it is estimated to be 65+ million today). They also estimated that there were an additional 80–90 million Cultural Creatives in Europe as of 2000.

HUMANITARIANS
Cultural Creatives are a growing number of humanitarians who care deeply about themselves and each other; about environmental consciousness and social responsibility; about self-actualization, spirituality and self-expression. They are activists, volunteers, and contributors to good causes.
LACKING CONNECTION
What is curious, Paul and Sherry discovered that this segment of society was unable to share their values and way of life in any kind of significant manner since they lacked connection with each other. Consequently, they were unable to have any kind of impact on how things were done in the world.
A WEB OF INTERCONNECTEDNESS
The intention of Thriving Cultural Creatives coming together is to create a web of interconnectedness for making powerful changes in the world, no matter how small or insignificant we feel our individual contribution might be for creating a Cancer and Addiction Free Society. Together, we have the strength and power to make shifts in consciousness that support spiritual growth, conscious living, and positive social change, the three pillars of a new sustainable lifestyle and world.
INTENTION
Weaving together breakthroughs in energy and consciousness, the intention of Thriving Cultural Creatives is to offer tangible soulutions, empowering each other and the planet with unprecedented and bold strategies for reclaiming our lives and future.
OUR MISSION is to leverage the talents, abilities,
and intelligence of people by focusing on
what provides greater passion, meaning, and
purpose for making sustainable change.
OUR EMPHASIS is to encourage
cooperation, collaboration, and teamwork,
which increases learning
opportunities, creativity, and innovation.

THRIVING CULTURAL CREATIVES
empower people to serve their families and
communities in living a sustainable lifestyle,
one that empowers greatness and honors
all lifeforms on the planet.
PLEASE JOIN US!
http://Facebook.com/ThrivingCulturalCreatives


Home - Cancer Facts - Creative Heart Gift Shop - Membership - Affiliates
Founder - Contact - Privacy Policy - Site Use Policy

Copyright © 2005, Cancer Free Society.
All Rights Reserved.